November! I know November is widely regarded as the asshole month of the year, but I actually like it quite a bit more than, say, March (important birthdays notwithstanding) because there is enough impending holiday stuff that I'm super excited for the month.
+ The restoration company has said we will probably be back home before Christmas, which I am trying not to think about too much because I have gotten my hopes up many many times in these 9 months, but I also told my mom that if that happens it's my favorite Christmas present, SORRY EVERYONE ELSE.
+ I'm knitting a sweater for my sister to Christmas, speaking of holidays, and it's going well.......for it being a fair isle sweater and I have only knitted in the base color so far! Ha...ha! It actually looks like a sweater instead of three weird piles now, which I'm counting as definite progress.
+ I am STILL trying to meet my Goodreads goal despite it getting all shirty with me about my having a meltdown this summer: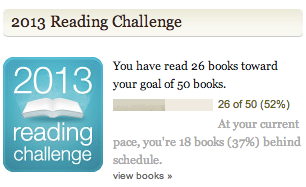 I CAN STILL MAKE IT!!!
+ Speaking of projects that are definitely great ideas, I'm rewatching Buffy from the beginning and if there was ever a moment for a Troy Barnes MY EMOTIONS!!! scene, this is it. I'm almost finished with season two, so I'm sure I'll have a 10,000 word essay on that when I finish. MY HEAAAART.
This entry was originally posted at http://tropiavera.dreamwidth.org/37317.html. Please comment there using OpenID.